OUR SERVICES
CO-PACKING & PRIVATE LABEL DETAILS:
– YOU know your customers best and we together can obtain extraordinary results within an open and transparent collaboration by sharing as many details as possible on your project and our co-packing processes. We want to exceed both your and our expectations!
Please read the helpful details below and then feel free  to reach out to us  and request a pricing quote for your project.
(resource document by John E. Rushing, Ph.D.)
(resource document by P.L. Brady, S. Seideman, J.R. Morris)
(link resources for finding a co-packer)
If you are scouting for a Co-Packer for your products it likely means that you are ready to scale your business up to the next level. We cannot hide that co-packing your products can be a big jump from your small batches or using of a commercial kitchen. But it definitely will save you time, and perhaps headaches, and let you focus more on selling and marketing your products. In today's market conditions, it is not a secret that greater profits are achieved through sales and marketing innovations than by what is done in manufacturing. So let us do the co-packing work and save your energy and resources for bigger and better things.
Scaling up though, can mean much larger volumes and understanding of the co-packing processes and requirements. We at Rocky Mountain Spice are here to help and happy to suggest and guide you through the next steps. In addition to co-packing your products, we offer other services you may need as help with nutritional labeling when retail packaging or product development services such as formulation assistance and ingredient substitution. In addition, we can suggest options for packaging and labeling the product and may be able to direct you to professionals who can assist in the design and marketing of product.
Ingredients and Supplies – For ease of operations and cost reduction we, as most co-packers, prefer to use in-stock ingredients because this assures continuous supply as well as the lowest possible price. If we cannot substitute an ingredient, of course we can source any specific or exotic ingredient your formulation may call for. We can talk more about it if this happens to be the case.
Volume – is indeed the magic wand that can have a great effect on pricing for your products. If you can estimate how much product you will need for the first year of business with us that would help determine if it meets our minimum batch sizes.
Packaging – There are numerous options for packaging food products, including various types of glass bottles; plastic PET bottles, foil pouches; and metal tin cans. If you don't yet have a choice in mind we'll be happy to suggest a good fit.
Labels – When needed, labels are an important detail in your final product and should not to be underestimated. There are several types, quality and prices on the market today and we can help to choose the best fit for the chosen packaging. For retail packaging, meant to be resold to the public, there are a few labeling requirements which you need to be aware; (i.e. nutritional panel and ingredient list).
Cost – The cost of co-packing product will be dependent on the amount ordered. As the amount of product produced goes up, the cost per unit generally decreases and that can help you forecast cost in advance. It may happen and is not unusual for the packaging and labeling to cost more than the ingredients themselves, so having all the pieces of the puzzle worked out, again, will ease the process.
Storage and Distribution – If you have any specific requirements for distribution, such as size of master packs, pallets, wrapping of the boxes on the pallet, or how the boxes are to be placed on the pallet, please have the information ready when you request a quote.
Manufacturing – If it happens that you are in the Denver area, we'll be happy to give you a tour of our facility and answer all questions that may arise during your visit. This is usually a good time to touch on related issues as for example our quality control methods, coding of batch and lots as well as average lead-time necessary for production runs. Or even review the appearance factors for the container, such as label placement, closure caps, colors and materials as well as any tamper proof requirements, if needed. If you have special requirements, as perhaps Kosher, this is also a good time to discuss its feasibility.
We'd love to hear about your projects and all details involved and as a result we will be happy to add to your comfort level by sending you our Non Disclosure Agreement prior to any disclosure from you. Creative Blending is our mantra and our awesome Lab "mad scientists" can't wait to mix something up for you.
For more info or to get a quote on your co-packing or private label project let us ease the growing pains,  click here and drop us a line  and more importantly relax and embrace these exciting next steps.
If it can help you to reference our wholesale pricing, when selling small packaged quantities feel free to visit our retail website at www.myspicer.com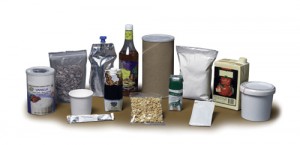 From flexible packaging to PET bottles to glass jars to tin cans
we can provide a package that fits your needs.
---
INSIGHT: Private Label vs. Co-Packing. What's The Difference?
Private Label manufacturers make products for store brands and according to the retailer's specifications.  The products carry the retailer's label and consumers are typically not familiar with the manufacturer.
Co-pack (also known as contract manufacturing) enter into a contract agreement with a customer to produce goods according to specifications.  The customer creates the brand, and the manufacturer makes the product.