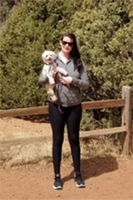 Client Services
Christina Hansen
Christina helps us with client services and manages some of our largest accounts at Rocky Mountain Spice Company.
Christina was born and raised in California and graduated with a B.A. in Sociology/Business Administration from The University of California, Riverside. She found her way to us in Colorado via San Diego, then Boston where she worked for an international software company, and finally landed here in 2016 to become part of our team. Christina has been a huge asset to our company and we appreciate her dedication to our customers.
In her free time, you will likely find Christina cooking, gardening, exploring Colorado, trying new restaurants, and spending time with her adorable dog and boyfriend.