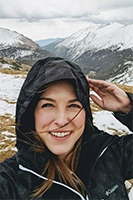 Quality Assurance Manager
Amanda Pesch
Amanda makes sure we produce safe, wholesome, high quality products for our customers and consumers!
She comes to Rocky Mountain Spice company with a background in food safety and quality experience in the dehydrated vegetable industry. She also assists us with her knowledge in food research and development as well as nutrition labeling/regulatory compliance.
When not working, you will find Amanda hiking and exploring Colorado, running, painting, and going out to eat at all the amazing restaurants in Denver and Boulder.