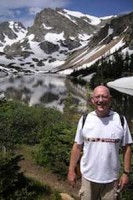 Chief Financial Officer
Dave Halter
I love the outdoor culture of Colorado, the history and the independent thinking inspired by pioneer founders. That's the same culture embedded in Rocky Mountain Spice Co. It's a growing and vibrant place that honestly puts the customer first and innovates every day, plus has a growth record to prove it.
So why Colorado for me? First comes the family and we wanted to live closer to our two adult children. My wife Suzanne and I moved from the mid-west to Colorado in 2009 so we could be close to them. Once here, we discovered the appeal of hiking and biking in the mountains, walking and socializing in beautiful neighborhood parks, First Friday Art Walks, and then there is the weather!
Did I mention the people? In my job as Chief Financial Officer, I have the opportunity to help the people of Rocky Mountain Spice Co reach their goals. By providing meaningful financial business information and helping all employees understand it, they can all make better decisions in their work and think like business owners.
Most of my thirty plus years experience in finance and accounting has been around privately owned manufacturing businesses helping owners and their employees become more successful. I maintain a CPA license in Colorado and am a member of Colorado Society of CPAs, American Institute of CPAs and Financial Executives International.